Our Goal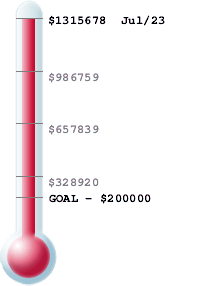 Privacy Policy
Effective date: December 11, 2011
This privacy policy outlines our commitment to respecting the privacy and security of our supporters, those in our programs and those who visit our site(s). We want you to understand how your personal information is collected, used and disclosed.
During the course of our various projects and activities, we frequently gather and use personal information. Anyone from whom we collect such information should expect that it will be carefully protected and used to pursue our mission and engage in the activity for which we collect it. Safeguards are in place to ensure that the information is not disclosed or shared more widely than is necessary to achieve the purpose for which it was collected and to prevent it being lost or destroyed.
The personal information that you share with ASIS will be utilized to manage your sponsorship and to communicate with you about our work. Personal information gathered by ASIS is kept in confidence. Your information will not be sold, exchanged or rented to any other organization or company. You are not required to enter any personal information if you are simply browsing through our site. However, this information will be required if you choose to register as a participant or volunteer and/or make a donation or you request further information about our organization. In these cases, the type of information we tend to request about you may include, but is not limited to, your name, email address, mailing address, age, and affiliated organization(s)
ASIS collects a limited amount of personal information about its sponsors, including name, title, address, telephone number, email address and other relevant contact information. This information is collected to comply with Canada Customs and Revenue Agency requirements, to provide sponsors and donors with information and recognition or to give and to respond to any information requests.
This site may contain links to other sites. ASIS is not responsible for the privacy or content of these websites.
Website and Electronic Commerce
We use password protocols and encryption software to protect personal information we receive when a service is requested and/or paid for online. Our software is routinely updated to maximize protection of such information. We are committed to high standards that demand integrity, and protection of all our supporters.
All donations are accepted in Canadian currency.
No refunds are provided on donations made to ASIS.
Updating of Privacy Policy
We regularly review and update our privacy practices and subsequently update our privacy policy. Please check our website periodically for the most recent information regarding these policies.
Contact Information
If you have any questions, comments or concerns related to our privacy policy please contact us at:
As-Sadiq Islamic School
9000 Bathurst Street, Thornhill, Ontario L4J 8A7 Canada
Tel. 1.905.695.1588. Fax. 1.905.695.1590
E-mail: sbhalloo@as-sadiqschools.com